Cupcakes
Okay, I'll admit it.  I have a soft spot for cupcakes.  They are my favorite thing to bake, and one of my favorite things to eat.  🙂  The problem with cupcakes though is that they are incredibly time consuming.  I could spend an easy three hours baking cupcakes that will all be eaten in a few days.  With the batter, filling, frosting, and clean up it's exhausting.  So this time when I decided I wanted to make cupcakes I decided I would simplify things.  I would find a good simple recipe that was a delicious cupcake without the frosting and fillings.
After a while of searching the web looking for the perfect recipe, I found it.  
 Chocolate Cupcake Recipe
Chocolate Cupcakes with Vanilla Buttercream Frosting Recipe
Get this easy recipe for Chocolate Cupcakes with Vanilla Buttercream Frosting.
Author: Robyn Stone | Add a Pinch
Serves: 12
Ingredients
Chocolate Cupcakes
1 cup all-purpose flour
1 cup granulated sugar
½ cup cocoa
1 teaspoon baking powder
½ teaspoon baking soda
½ teaspoon salt
½ teaspoon espresso powder
½ cup milk
¼ cup vegetable oil
1 egg
½ teaspoon vanilla
½ cup boiling water
Instructions
Preheat oven to 325º F.
Place cupcake liners in muffin tin. Spray lightly with cooking spray.
Add flour, sugar, cocoa, baking powder, baking soda, salt and espresso powder to a large bowl or the bowl of a stand mixer. Whisk through to combine or, using your paddle attachment, stir through flour mixture until combined well.
Add milk, vegetable oil, eggs, and vanilla to flour mixture and mix together on medium speed until well combined. Reduce speed and carefully add boiling water to the cake batter. Beat on high speed for about 1 minute to add air to the batter.
Evenly distribute cake batter. Each cupcake liner should be about ¾ths full.
Place in the oven and bake 12-15 minutes or until a toothpick inserted in the center comes out clean.
Remove from the oven and allow the cupcakes to cool completely.
Prepare Buttercream Frosting according to instructions.
Via: Add A Pinch
These cupcakes were amazingly fast to make and the whole family loved them!  The one thing I switched was I took away the espresso powder and boiling water, and I used strong brewed coffee in its place.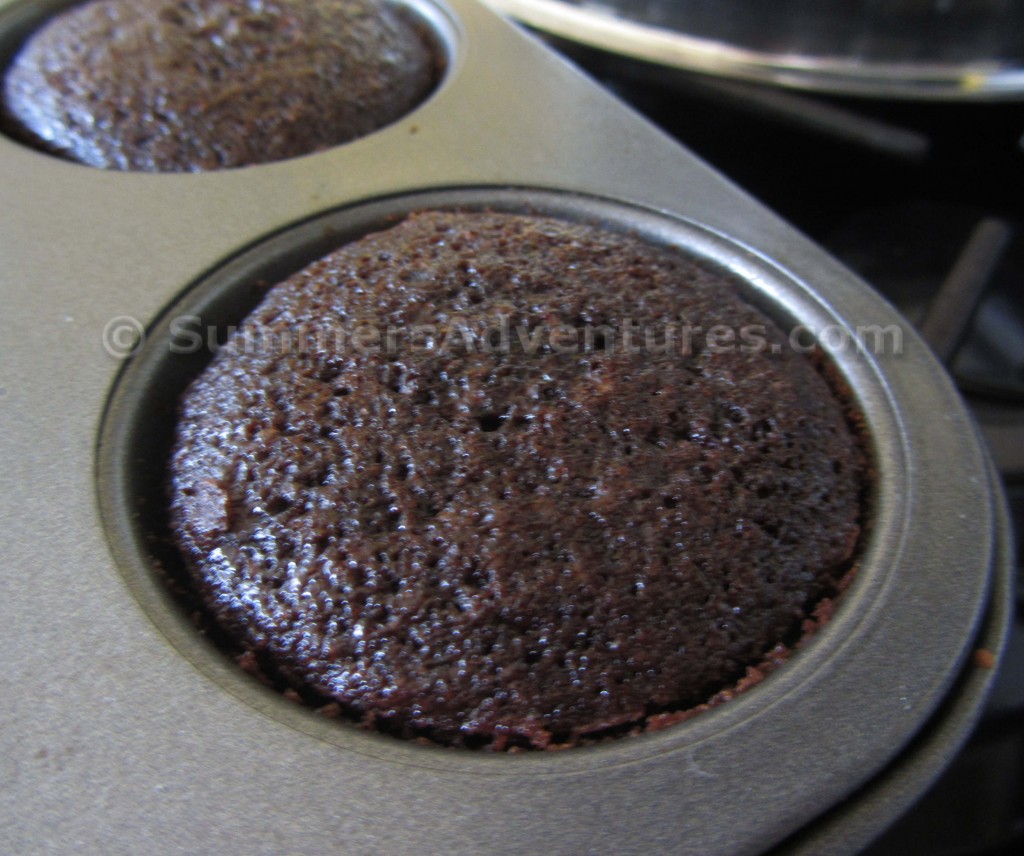 My family typically does not like cupcakes that are overly sweet, and these were perfection.  They were also remarkably fast and easy to make!  I know that I will be reusing this recipe many times in the future.  Make sure you try it too, because it makes one moist and delicious cupcake!