A couple of days ago while I was in Madrid I had the wonderful chance to stop by La Pizzateca. La Pizzateca is a small restaurant with pizza, calzones, lasagna, and more!
They have pizza that is pre-made and after you order it is warmed up in the oven so that it is fast service and when you get your pizza it is warm and delicious, just the way you like it. The pizza choices are so varied that there is sure to be pizza for everyone! From potato and truffles to five cheese.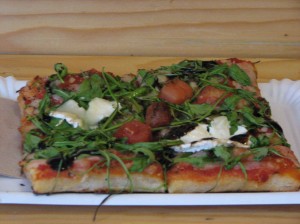 I tried the mushroom and truffle pizza, and I was blown away by the quality. This pizza was creamy, gourmet, and you could taste the truffles (which I appreciated considering how much I love truffles.)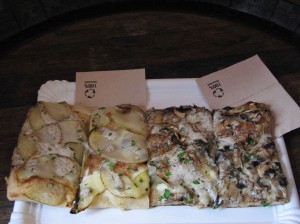 The crust was perfection on every pizza and each had such a unique and delicious blend of flavors.
My mom tried the five cheese that had goat cheese, cream of gorgonzola, blue cheese, mozzarella, and provolone. And for a family that has had cheese from all over Europe, this pizza blew us away! You could taste the complexity of each cheese and they melded together amazingly!
My dad tried the potato and truffle pizza. We hadn't had a potato pizza before and were not sure what to expect. But, we were not in the least disappointed. The potato added a great texture as well as a unique fun flavor. The truffles were amazing and added the perfect complexity to the pizza.
My brother tried the margarita pizza. While the margarita pizza is fairly common, it can be hard to master perfectly. This margarita pizza was incredible! With fresh tasting tomatoes, great seasoning, and all together mad the ultimate margarita pizza.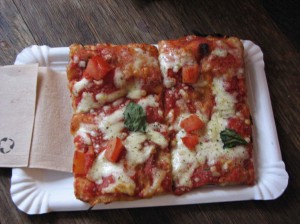 After pizza we tried the tiramisu for dessert. Honestly is there anything better than tiramisu after pizza? With great taste and the perfect amount of coffee, cream, and cake this was a winner.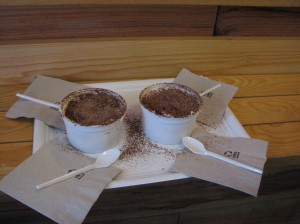 I asked a few questions about the La Pizzateca to find out a little more about the amazing pizzeria. La Pizzateca has been open for three years. One of the customer favorites is the mushroom and truffle pizza, and after trying it I can see why!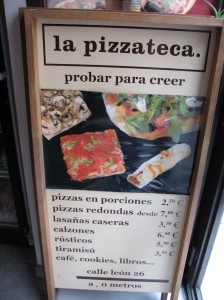 La Pizzateca is defiantly a place to stop by while in Madrid. With some of the best pizza we've ever had, this pizzeria is for sure a winner.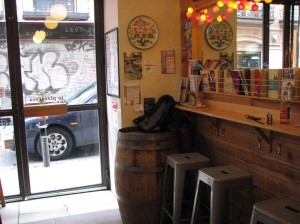 Follow La Pizzateca on Facebook!