Bretagne (Brittany France)
In my opinion one of the best ways to get to know a region or country is by the food.  I found it fascinating when I lived in France and realized how each different region so clearly had it's own cuisine and specialties that you couldn't find anywhere else.  When I was in Paris I was lucky enough to stumble upon a restaurant that's menu was based off the typical Breton cuisine.  Since I was unable to see revisit this beautiful region on my trip I was thrilled to have the chance to still eat the typical scrumptious food.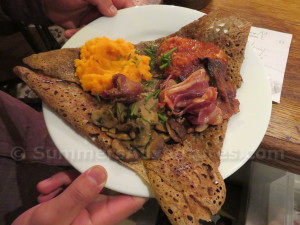 This is Chez Imogène isn't it an adorable restaurant?  So adorable a customer even painted it and gifted the painting to the owner of the restaurant Michel.  I was able to sit down and talk to Michel about the restaurant and learn how it was started.  Now Michel didn't always live in Paris, he in fact did not even live in Brittany, he wasn't even a restaurant owner, he was a professor.  Until one day his friend approached his with the idea of opening a restaurant together, a Breton restaurant, in Paris.  He decided to try, but first he decided he wanted to learn the proper way to cook this cuisine and fled to Brittany to work as an intern under other restaurants to better learn and understand.  When he returned he was ready.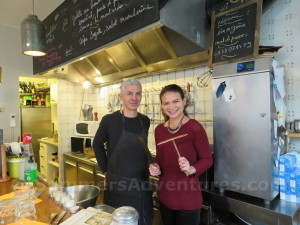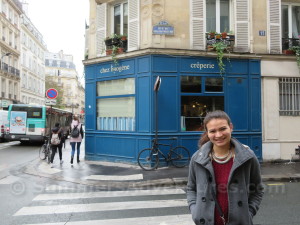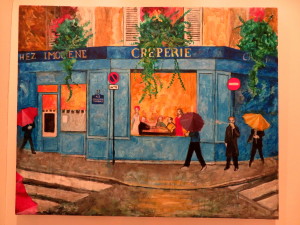 The History of Chez Imogene
They have been in business for twenty years and he tells me he is still learning and growing everyday.  This restaurant is his life, he does all the shopping at local butchers, fromageries, and farms.  He is the chef and even lives above the restaurant.  He told me one of his favorite things about his restaurant is that people can see him as he cooks and vice versa so that he can see the looks on their face as they taste the food he has prepared.  It does his heart good as he told me.  He hires students from the Universities to work at the restaurant at night and at lunch there is an eighty year old lady from Brittany who comes to work with him.  I asked him what his favorite crêpe is and he told me, it's the crêpes his mom makes when he goes home to visit, no one does it better than her.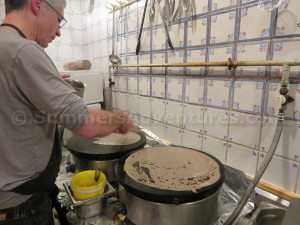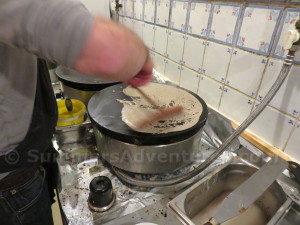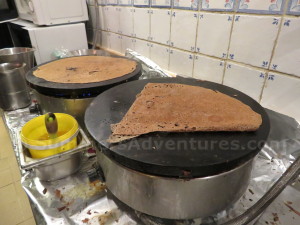 25 rue Jean-Pierre Timbaud 75011 Paris
https://www.creperie-imogene.fr/
+33 01 48 07 14 59
goyenetche.michel@orange.fr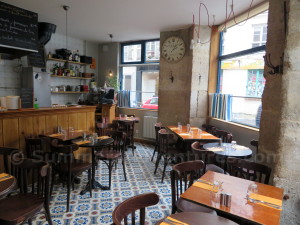 Gallettes
Gallettes are a type of crêpe made with brown flour made to be savory.  I love them.  These are the ones that we tried while at Chez Imogène, spoiler alert, they are delicious.  Just look at the ooey gooey cheese and the beautiful colours.  They were both right with flavour and had my stomach rumbling while I watched Michel prepare them for us.  Along with our Gallettes we of course had the traditional cider to accompany.  As well as tried the entree of the night a delicious soup and homemade blinis with tarama sauce and cream.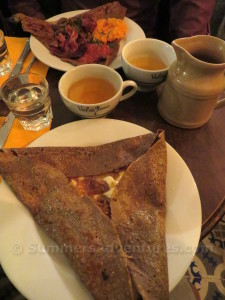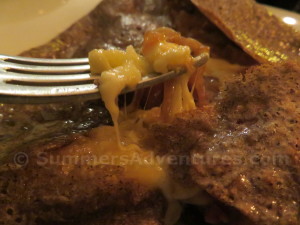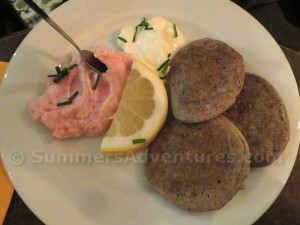 For dessert we finished this delicious meal with flambé crêpes which really made for a show with the blue fire dancing off the plate.  They were incredible.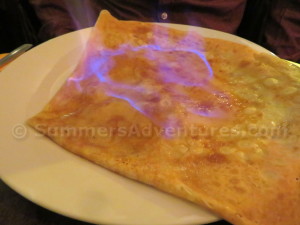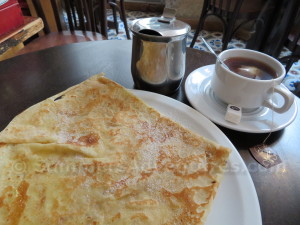 Chez Imogène is  an adorable quaint restaurant with great servers, atmosphere, and of course amazing food.  Make sure that is makes your Paris to-do list you can get a taste of Brittany and relax in a wonderful restaurant.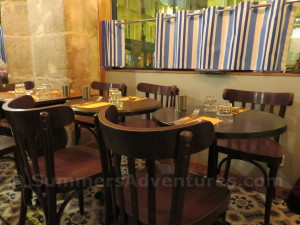 Chez Imogène
25 rue Jean-Pierre Timbaud 75011 Paris
https://www.creperie-imogene.fr/
+33 01 48 07 14 59