Paris Fine Dinning
When in Paris one thing you can not miss is a set menu gourmet meal.  It gives you the opportunity to try things you normally wouldn't to experience a several course meal that will bring your pallet on a journey.  My fine dinning experience was at Restaurant Louis by chef Stéphane Pitré.  Let me tell you, they brought me on a culinary experience I won't soon forget.  It is a MUST visit in Paris.
This video shows chef Stéphane Pitré as he prepares his food in this two star Michelin restaurant.  I don't know about you, but this video makes my mouth water every time I watch it.  It really captures the essence of Restaurant Louis perfectly.
23 Rue de la Victoire, 75009 Paris France
Restaurant Louis en 8 temps (8 courses)
That smile on my face is from all the delicious food that Stéphane created for me during my visit.  Walking into the restaurant I already knew that it was going to be something special based on the faces of all the other customers as they dug into their food.  The atmosphere was perfectly cozy and the waiters were nothing short of welcoming.
I ate the eight course meal with wine pairings with a few extra goodies.  A few of my favorites from the meal were the cream brioche with mushrooms in the vapor of lichen with a cold miso soup.  It came served with a glass dome that the server lifted off and had us smell to soak in the aroma of the herbs.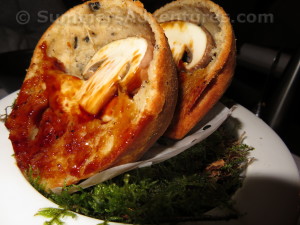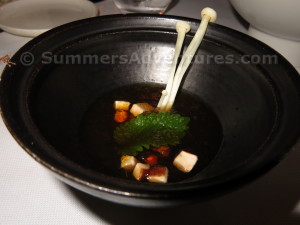 There was also a Thai coco juice foam with a scallop (noix de saint jacques) with a shred of coconut, onions, saffron, and garlic.  It was incredible the consistency of the juice was foamy and warm.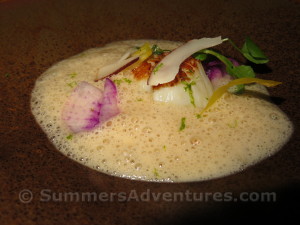 There was a grapefruit sorbet with a caramel tamarind sauce and powder of combava that I would eat every single day if I could, the meld of the flavours was incredible.  I am salivating right now just remembering the taste.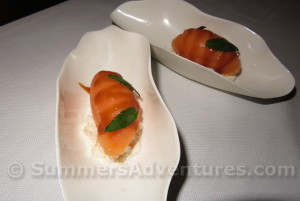 Let's just say absolutely everything was delicious.  From poached quail egg yolk on rice cracker, foie gras, to ice cream made of hops, it was a culinary journey.  The wine pairings were also spot on with each dish. Overall I give Restaurant Louis a standing ovation.  And an encore 😉

 Restaurant Louis job well done.
Are you all starving now?  Well make your reservations here. Trust me you won't regret it.