Africa, Morocco
Ahhh Africa…  I have always imagined what fun it would be if I were ever able to go to Africa.  So, when I got to take a ferry from Tarifa  Spain to Tangier Africa I was thrilled! Africa was absolutely fantastic and I loved every second.  Now some people give Tangier a bad reputation,  it is a place for more experienced travelers.  But if you are like me, than you will be able to really enjoy the different culture.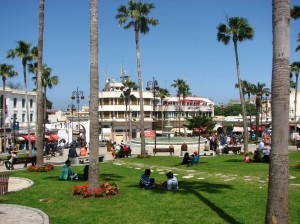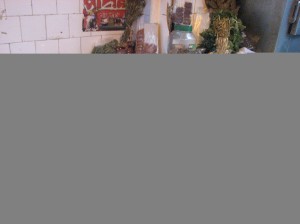 Preparing
I would recommend the one day tour of Tangier from Tarifa with the FRS which is what I did for the trip.  This is 59 euro per person and it includes the 45-60 minutes ferry to Tangier, a guided tour, and a paid for delicious Moroccan feast.  Make sure that you have your money, passport, and camera in a safe place because Tangier does have pickpockets as many cities do.
The ferry ride
On the ferry make sure you are quick to get in line to get your passport stamped or you'll end up waiting in a long line.  I spent the ride hoping to catch a glimpse of wales or dolphins.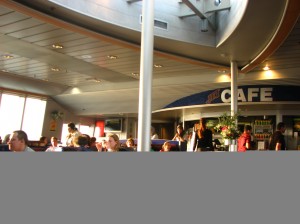 The guided tour
The tour brings you to a place you can ride camels if you want (you pay), a ride around the outskirts and downtown of Tangier, a walk through markets and town, a lunch at a traditional Moroccan restaurant, a carpet demonstration, a spice demonstration, and finally a little area to eat browse stores or bargain with street sellers.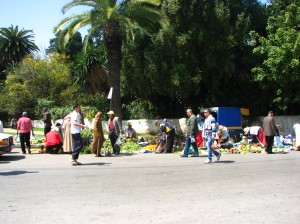 Camels
I choose to do a camel ride for €2.  Turns out a camel ride wasn't at all what I had expected.  You climb onto the camels back while it kneeling on the ground then once your on, it stands up and you hold on for dear life.  Every step the camel took I felt like I would fall for sure!  I remember my thought process as I was riding "Whoa this is so cool!  Yikes! Don't let go, just don't let go and I'm sure I won't fall.  Is it supposed to be this bumpy? Only a little farther. I'm riding on a camel in Africa! Oh no, the camel has to go down again!? Uh oh I better hold on!" I ended up really having a fun time on a crazy camel ride!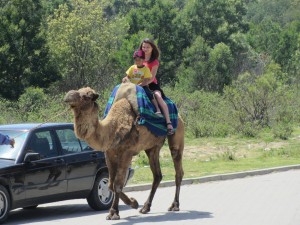 The city of Tangier
When I would think of Africa I would imagine the Sahara desert.  However, Tangier was nothing like that with a bustling city life and beautiful trees and foliage on the countryside.  Tangier is one of those places that can be overwhelming a dirty city, pushy vendors, and huge open market places.  I loved it there with the new culture that really shows you how different each part of the world is.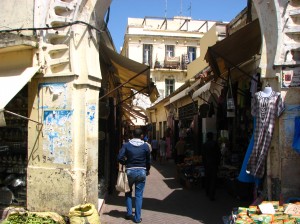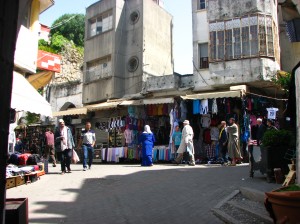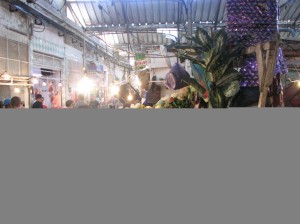 Moroccan food
The lunch at the Moroccan restaurant was spectacular!  The tour comes with the lunch but if you want drinks you pay.  Inside the restaurant there was a little music, awesome seating, polite waiters, and food to die for!  First is a big serving of spiced vegetable soup.  This soup was amazing, I happily ate every drop.  Next came beef kabobs with a special spicy red sauce.  I did not eat these because I am a vegetarian but I was told MANY times how delicious they were.
Then came chicken couscous, I got vegetable couscous instead and it was the best I've ever had.  It was such a huge serving but was unable to finish my spectacular couscous topped with a heaping of vegetables I was so full.  Finally came our dessert, honey cakes.  These honey cakes were very sweet and sticky and just the right size to ease a sweet tooth but not be too much.  Last was small glass of REAL mint tea.  We were told that mint tea is common after meals for digestion.  This tea was superb it was sweet had really mint leaves and was amazing.  I have to say that was one of my favorite meals I've ever eaten.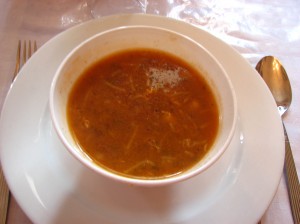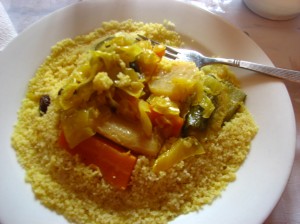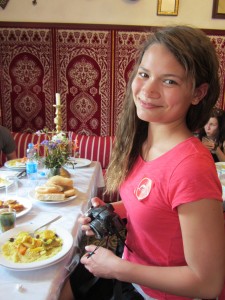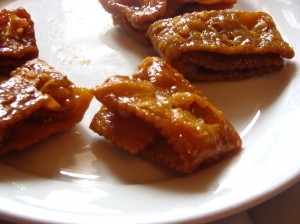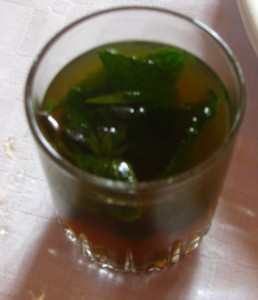 The carpet and spice demonstrations
During the carpet demonstration the people told us about the qualities and patterns of traditional Moroccan rugs.  And then afterwards were were given time to browse the carpets, rugs, blankets, and more.  The spice demonstration was one of my favorite places.  In the demonstration we were told about the uses of popular spices, oils, and lotions.  We were able to try samples of many things and by the time we were ready to leave we were smelling like a mix of roses, spices, and argon oil.  Afterward we were again given time to browse the spice store.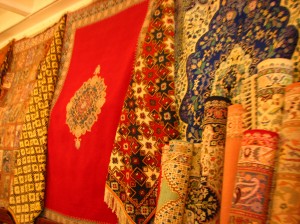 Bargaining
At the end of the tour we were given time to look at a jewelry store, leather store, cafe, or bargain with the street vendors.  Considering how much I like to bargain I choose to buy a souvenir from a street vendor.   Since I've been bargaining since I was eight I have learned how to get the best prices for anything.  So I bargained with a vendor for a pretty orange necklace.  His starting price was 22 euro and after ten minutes I got the necklace for 3 US dollars since I wasn't carrying any euros.  So if you are planning to bargain, bargain hard.
A great day trip
I really ended up loving Morocco I could not stop gushing about what an amazing time I had for days.  🙂 It was a great experience and a wonderful look into a new culture.  If you ever have a chance to see Morocco, take it.  I know I'm sure glad I did.