Sa Pa Vietnam
"Don't go to Sa Pa."
I can't count the amount of times we heard this phrase tossed around during our research into Vietnam.  To be honest, we reached the point where we were no longer interested after watching countless videos of tourists being hounded by sales people.  We ended up taking seeing the rice fields off of our list.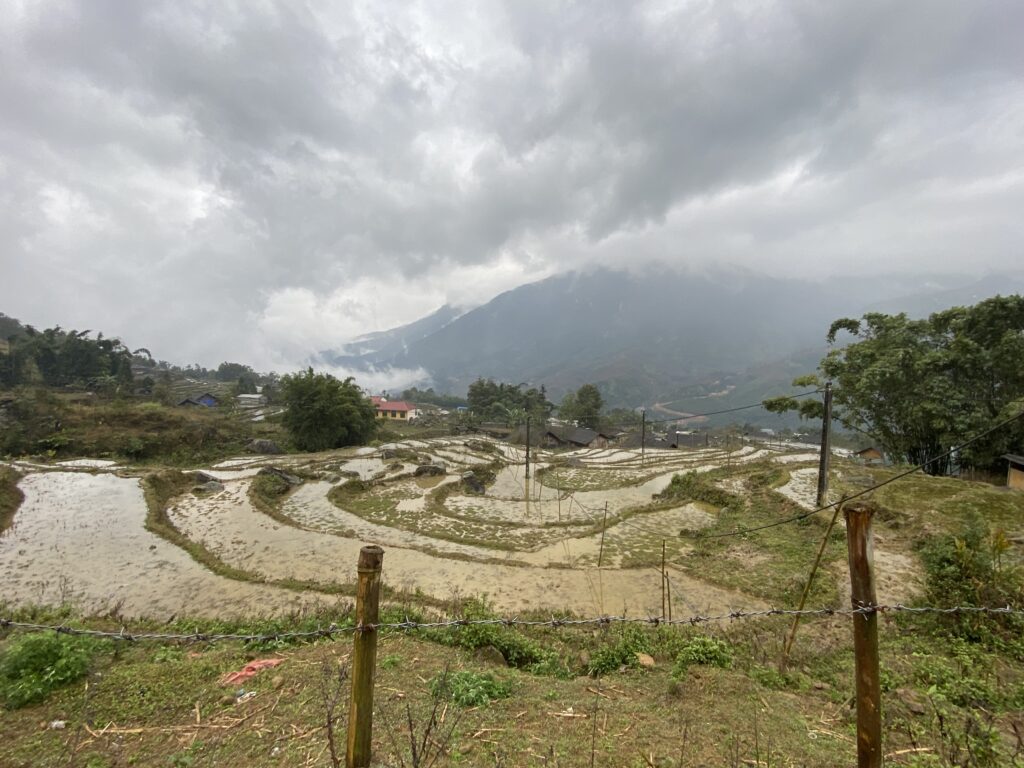 That was until I stumbled across a blog post talking about homestay options in the villages above Sa Pa.  All of a sudden my intrigue was peaked, my searches changed from Sa Pa to the villages above.  That's when I found this site that talked about their incredible experience with a family run by the amazing Mama Ger.
As I read about the H'Mong Village, the family and experiences.  I knew I HAD to meet Ger.  Without a second thought I pulled up WhatsApp and messaged her.  It didn't take long for a voice message to pop up.
"Hi this Ger here.  I am sorry I cannot read or write.  We don't speak Vietnamese in my village and our language is only spoken language.  I hope it's okay for you."
I quickly switched to voice messaging and we started our conversation.  Each one from her starting with a cheery "Hello this Ger speaking" that made us even more excited to meet her.  Soon we had established dates and when and where pickup would be from Sa Pa.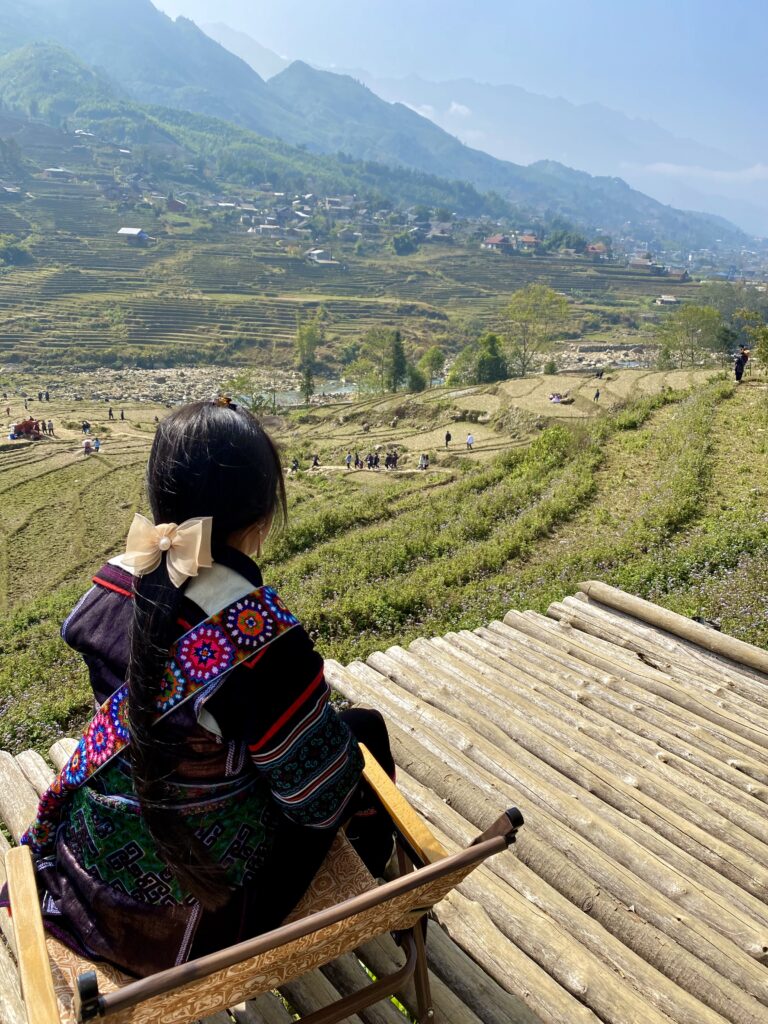 We arrived in Sa Pa about 6am, Ger had sent a taxi to retrieve us at the station and as we started the drive up the mountain and began to see the first bit of sunlight poke out over the mountains.  I'm pretty sure our jaws were dropped the whole time as we watched families of water buffalo leisurely cross the dirt road, chickens running around everywhere and finally as the rice fields came into view.
Ger was outside to meet us as we arrived and was quick to introduce herself and pull us each into a tight hug.  We felt instantly at home as she ushered us into her home, pouring us each a glass of tea (grown from her own garden) and offering us coffee.  We were in shock as we walked around her home, it was all wood and bamboo carved and constructed together with such precision and beauty it was awe inspiring.  As there is no heating or cooling in the homes, Ger sat us in front of the fireplace as she started to cook breakfast.
She prepared us a breakfast of crepes, fresh eggs and a plate of fruit from right outside.  After eating she brought out rice (from her own field), chicken and fresh pork (slaughtered just a few days earlier).  Her family joined us and we all ate together.  As we sat we began to ask her questions about her village.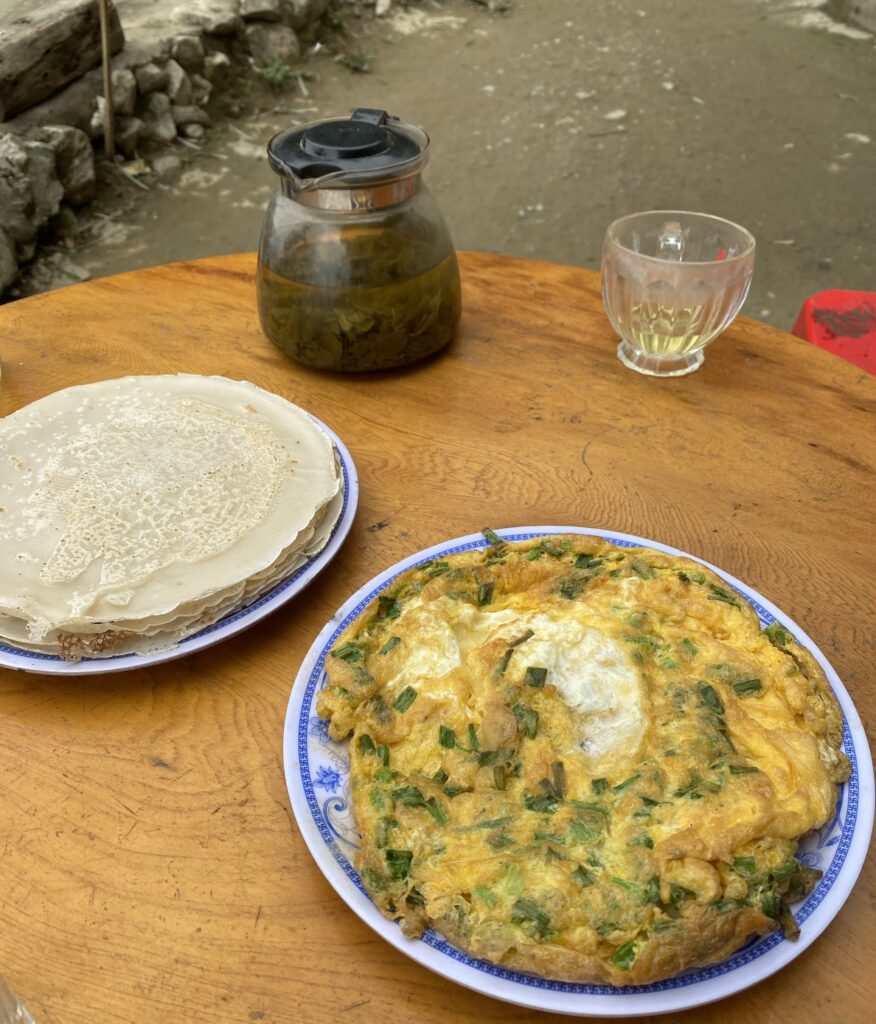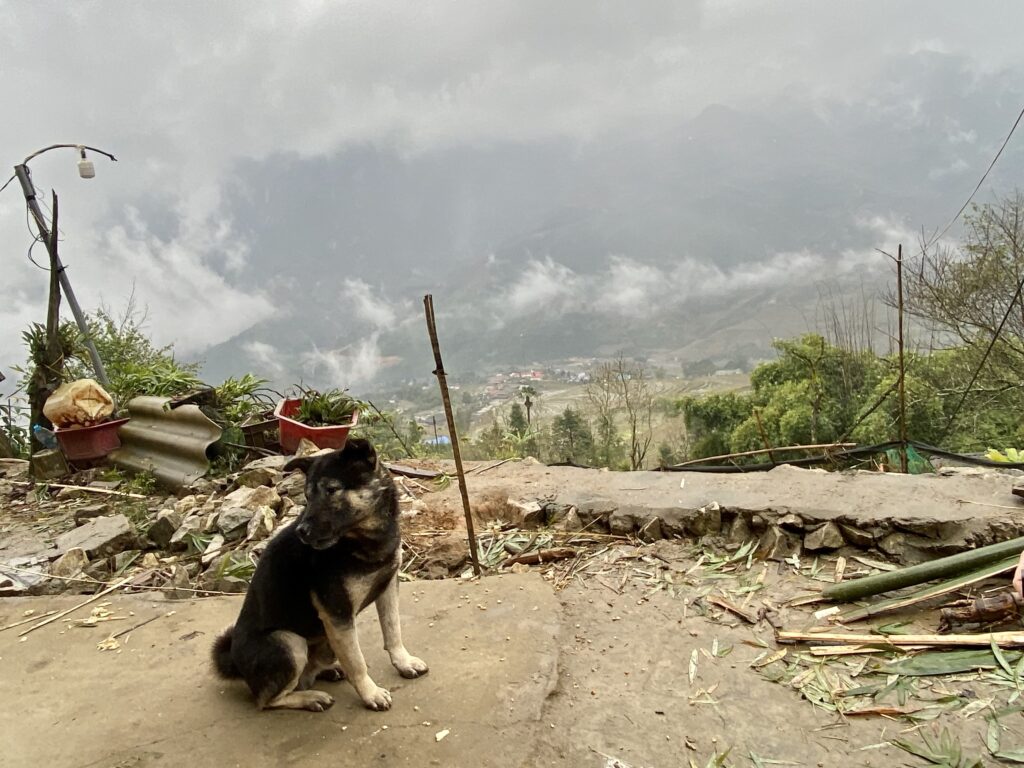 H'Mong Village
The village is a mix of three main cultures Vietnamese, Chinese and Lao.  The villagers get married quite young as arranged marriages are still widely accepted, starting at age 15.  The husbands family pays the wife's family 60 million VND or a water buffalo for their daughter.  Since after the wedding the wives always move in with the husbands family and take care of them for the rest of their lives.  Then they have a big wedding that lasts several days which according to Ger includes lots of drinking and eating.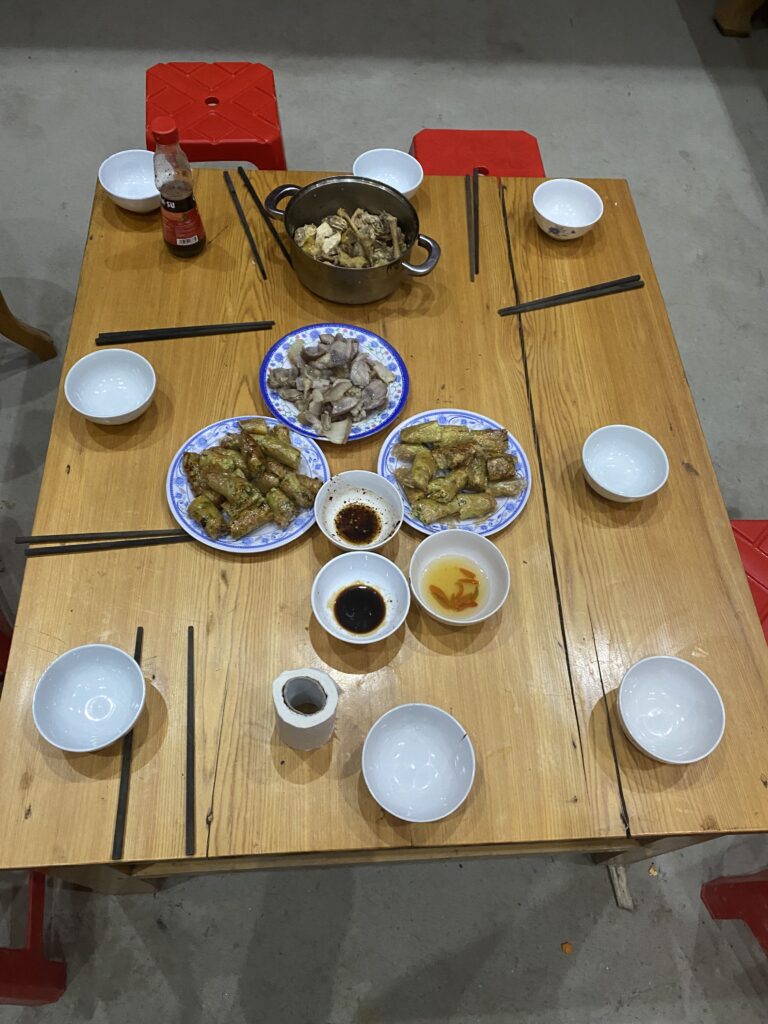 After we finished eating Ger picked up a pitcher and some little ceramics and began to pour us each a glass.  "Happy water" she called it and explained that it was rice wine.  Her husband made from their rice field.  It was delicious.
A day with Ger
After a big breakfast we were shown our room, a nice big bed in a private room with a mosquito net to go over the bed.  We found the bed incredibly comfortable, in fact out of all the places we stayed in Vietnam this was our favorite bed.
Ger's mother and some of her friends walked up the road to meet us and adorn us in their traditional clothes and handmade jewelry.  Then after deciding we were properly attired we started our trek down the mountain to their little town.  As it was during Tet (Vietnamese New Year) there were booths set up everywhere.  Little carnival games and so many food vendors most of which consisted of green mangos with chili, pineapple and surprisingly a LOT of hot dogs with a chili dipping sauce.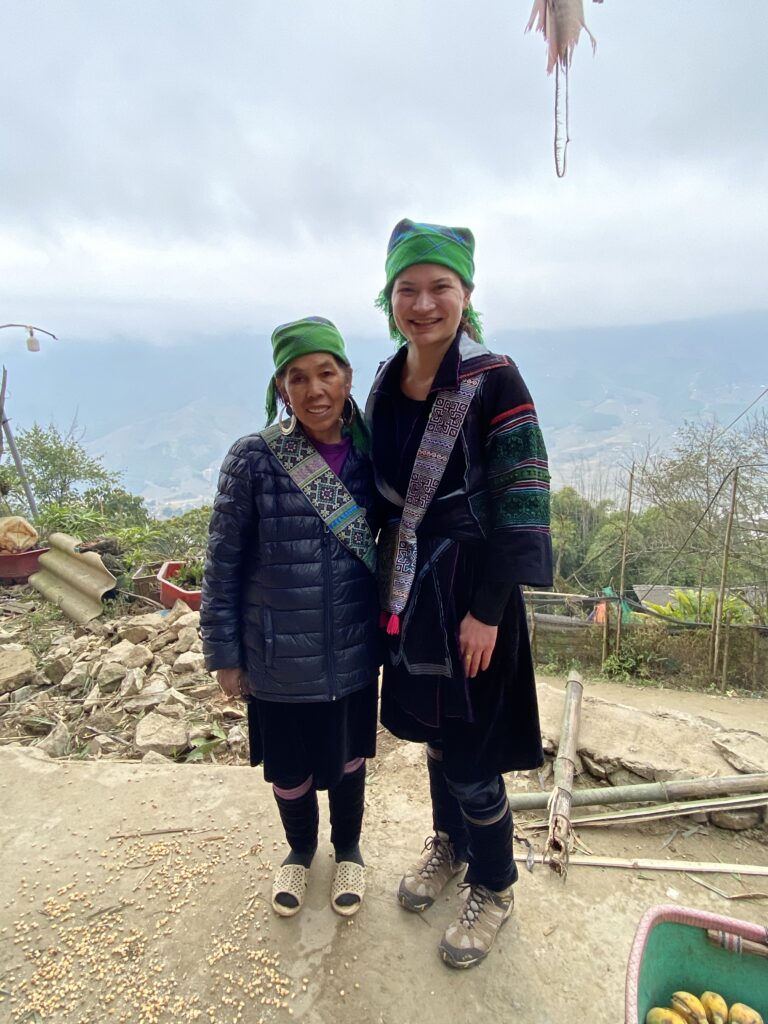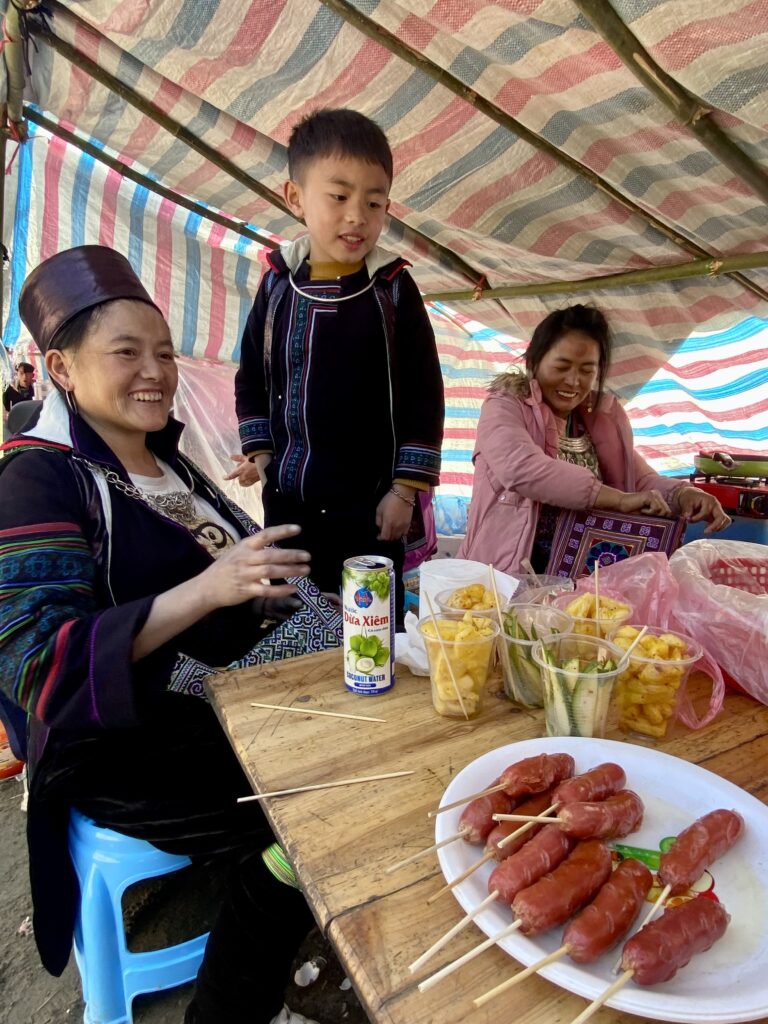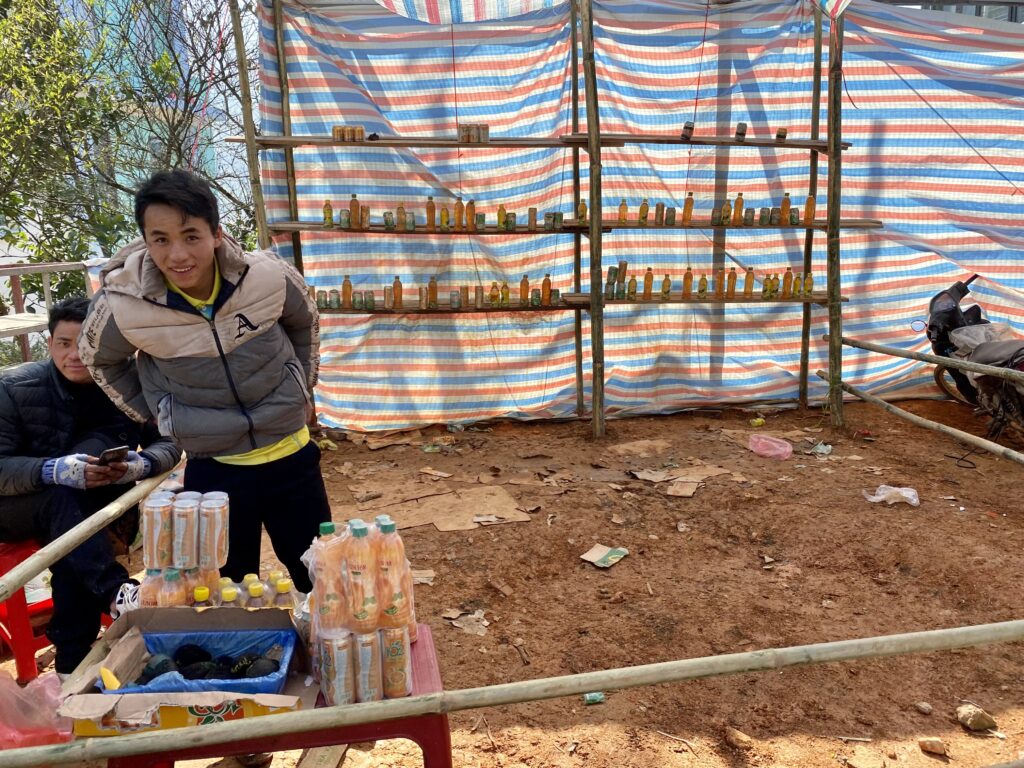 We walked around a bit before descending into the rice fields below.  It was stunning, water buffalo lazily walked around loose as well.  Ger told us this was because they weren't needed for work during the winter so they let the buffalo go loose and they always came back home.
We finished our excursion at Ger's rice field.  She and her friends pulled a karaoke machine onto the platform made from bamboo overlooking the fields and all sat together and sang over the rice.  A pretty surreal experience for us.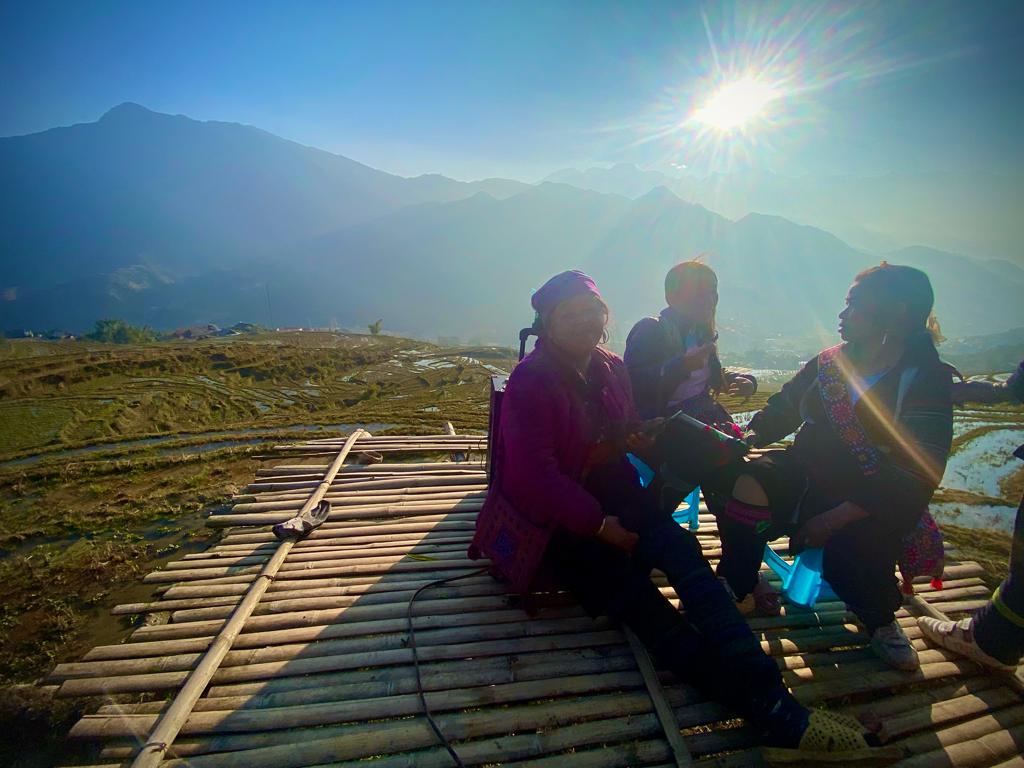 That night Ger and her friends prepared a feast of a meal.  After stuffing ourselves silly she retrieved the "Happy Water"…and a chicken head leftover from dinner.
"Want to play a drinking game?"  She asked as she casually removed the chicken beak from the head.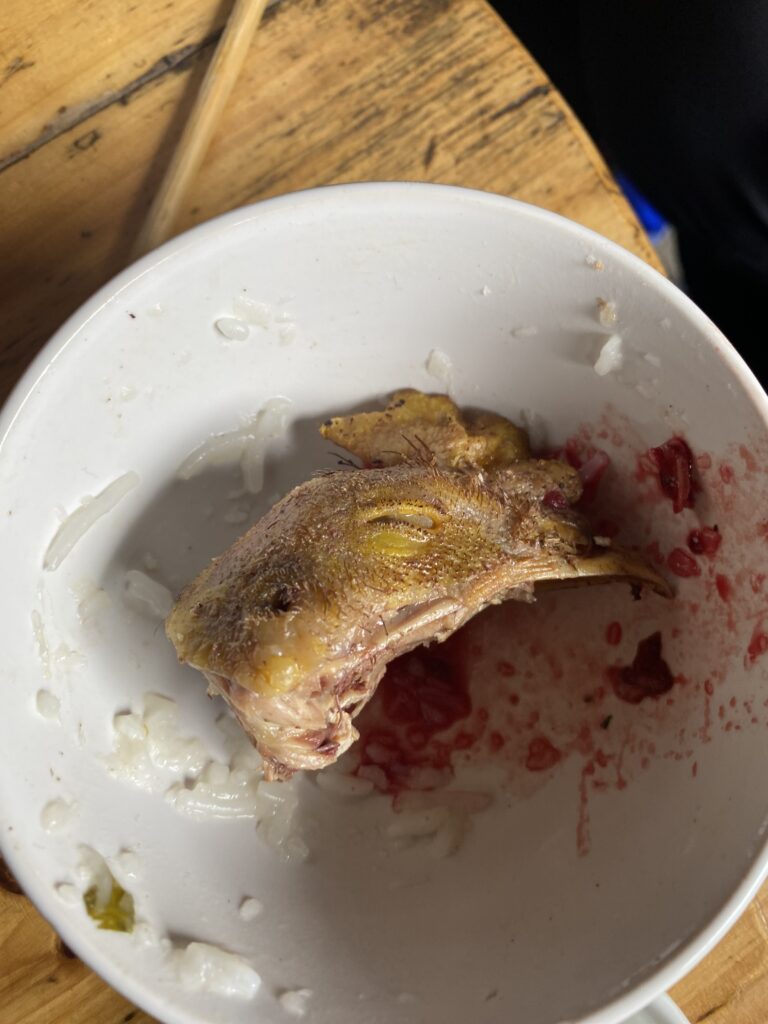 She went on to explain three drinking games they played together.
Drinking Games in Vietnam (H'Mong Village)
You have three 'rolls' of the chicken beak, if it lands on its side you roll again.  You have two more tries.  Then if you can get it to land upright you don't have to drink.  If you cannot get it upright then it's a shot for you.
Same rules as above, but if you roll the beak upright you get to chose who drinks.
Get a bowl of water and chopsticks and spin the chicken beak in the water, whoever the beak is facing when it's done spinning drinks.
Needless to say much happy water was ingested during the next couple hours.  Along with so many laughs and stories.  Insider tip 'chuca' means 'cheers' in their language.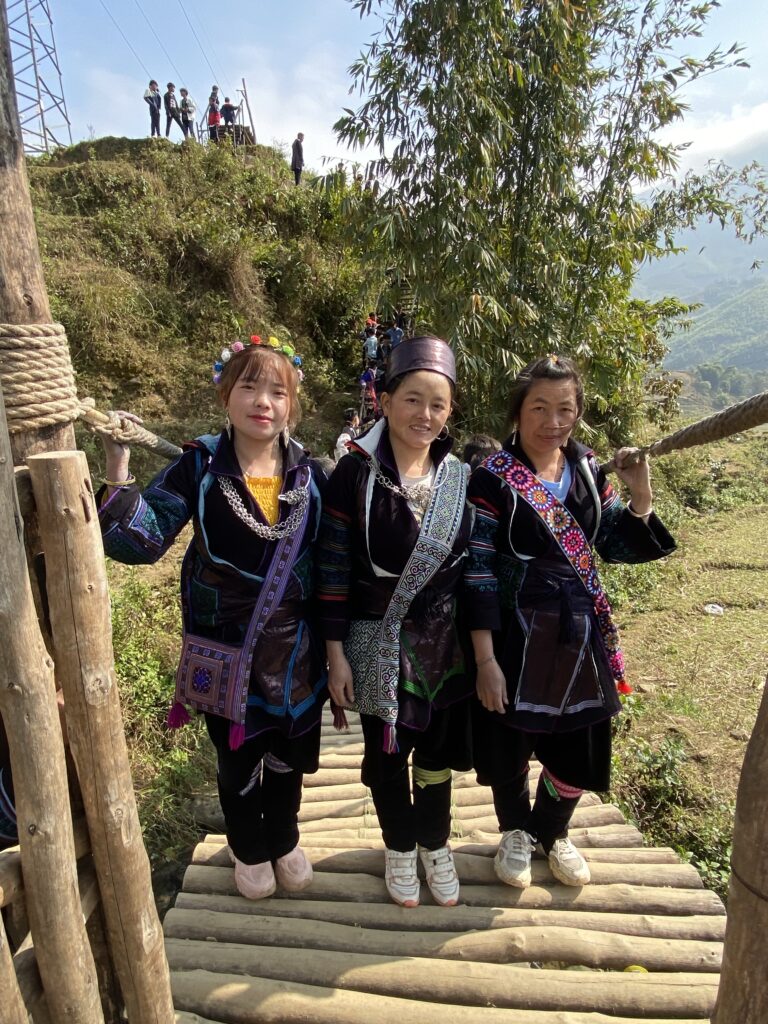 To anyone going to Vietnam I can't recommend staying with Ger highly enough.  The money you pay goes directly to her and her family in 2023 her prices were $60 per person for 2 nights and 3 days with her.  Considering she covers transportation from Sa Pa, all meals, happy water, incredible information about her village and just an amazing experience I think it's a great deal.  We gave her all the extra cash we had on us when we left, she deserved it.    We are already know we'll be visiting her again when we return to Vietnam.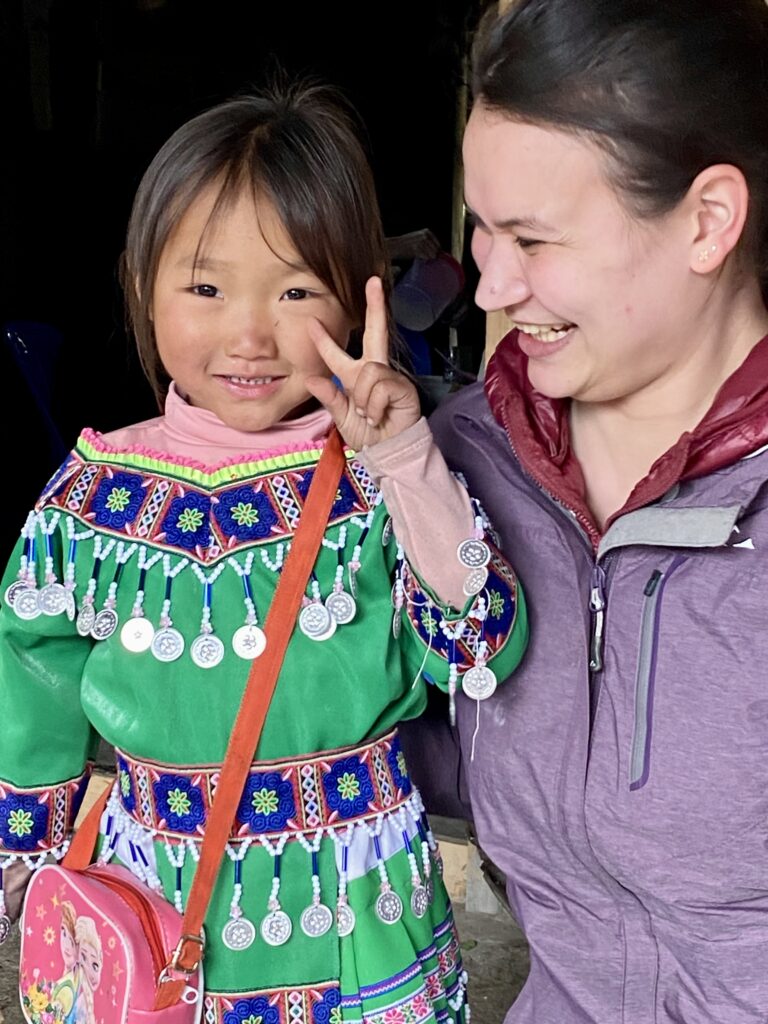 Remember, Ger cannot read or write.  So when contacting her you have to use voice messages.  But honestly it gets you more excited for your trip hearing her voice.  This is an experience I can't recommend enough.
Facebook : Ger's Sapa Valley Homestay & Trekking 
Whatsapp : +84 164 571 3361