There's something about a casual yet elegant hair style that I love.  This is the double poof french twist.  It's easy, comfy, and I'm going to teach you how to do it too.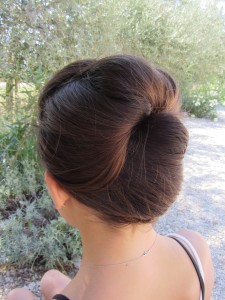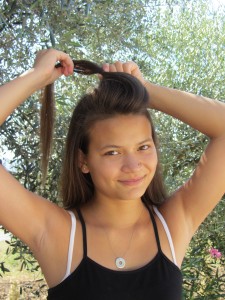 You will need:
– 8 bobby pins
– 4 small elastics
How to: The double poof french twist
!.  Comb through your hair and get it slightly moist, then comb your hair back (not parted.)
2.  Take the top layer of your hair from the front and make a pony tail.  Then slightly pull out the hair enough to get the poof you want.
3.  Make another small pony tail out of the bottom of your first pony tail.  (So that the hair is easier to deal with.)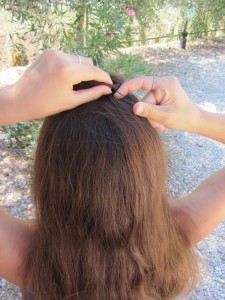 4.  Tuck the pony tail under the poof and secure with two bobby pins.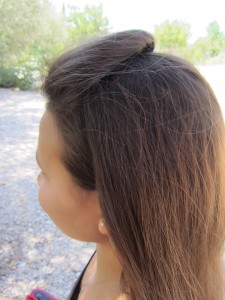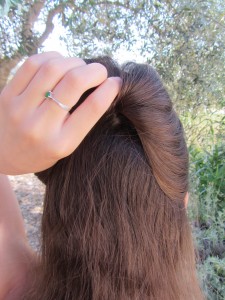 5.  Repeat steps 2-4 with the hair behind the first poof.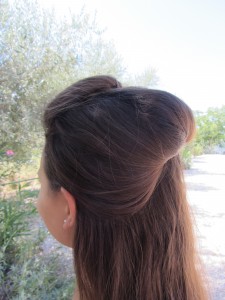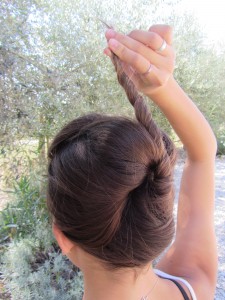 6.  Next take all the leftover hair and pull it into a french twist and secure.
*For those of you who aren't sure how to french twist, then here are the instructions for that.
How to: French twist
1. Take the hair and twist it up the back of your head.
2.  There will be some loose hair on the side opposite of the way you twisted.  Take that hair and gently push it higher on your head.
3.  For the hair above keep it twisted and tuck it under the french twist on the side you twisted towards.
4.  Secure with bobby pins.
French twists take practice to master, but its worth it because of how easy and fast it is  once you figure it out.